DAY 1: ARRIVE DELHI
You arrive at Delhi international airport where you are met by a local representative and escorted to the Lemon Tree Premier Hotel, just 4kms from the airport. Settle in and rest after your flight. If you're feeling peckish there is a 24-hour cafe serving local and international food as well as the main restaurant which specialises in Pan-Asian cuisine. The lounge bar offers light bites and drinks. Recreational facilities include a spa, gym and outdoor swimming pool.
DAY 2: FLY TO BAGDORGA AND TRANSFER TO SILIGURI
After breakfast you are collected for the transfer to the domestic airport and the morning flight to Bagdogra in northeast India, arriving around 1pm. On arrival you are shown to the transfer vehicle for the journey to Siliguri, a drive of around half an hour, where you spend the night at a hotel in the city. The rest of the day has been left free so you can relax after the journey, although there is an optional Nature walk and orientation with the tour leader if you would like to participate.
Breakfast
DAY 3: SILIGURI TO HABRES NEST
This morning you continue the journey to Singalila National Park. The first part of the drive takes you to Manebhanjan, a journey of around 3 hours. Here you transfer to a 4x4 vehicle for the ride through rugged Himalayan scenery to Habre's Nest in Singalila National Park, near the Nepalese border. You are based here for the next few days as you explore the park. Lunch will be ready for your arrival. Prior to your arrival trackers have been searching for red pandas and noting their locations, so this afternoon you can set off for your first expedition into the national park, a good chance to adjust to your new surroundings and to get to know your naturalist guide. Return to the lodge in time for dinner. Breakfast, lunch, dinner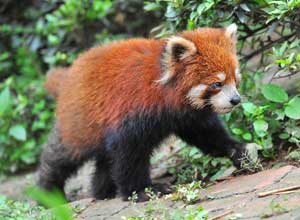 DAY 4: SEARCHING FOR RED PANDAS
Your first day exploring Singalila National Park starts with an early breakfast so you can make the most of your time. The group is led by a naturalist guide and accompanied by porters, and you travel by 4x4 and on foot as you search for red pandas, preceded by trackers who advise the guide of sightings. The red panda, also known as a 'firefox', spends most of its time among the trees feeding on bamboo, and is a solitary creature most active at dawn (hence the early start) and dusk, so these are the best time to spot them. Red pandas are slightly larger than a domestic cat and have reddish-brown fur and a long tail. They are classed as endangered by the International Union for Conservation of Nature (IUCN) and there are thought to be fewer than 10,000 in the wild, which makes seeing one all the more special. Breakfast, lunch, dinner
DAY 5: NATURE TRAILS IN SINGALILA
It's another early start at Habre's Nest. You leave the lodge around 8am with the guide as you go in search of wildlife. Although the red panda is the star, there are plenty of other animals to look out for. Your guide will help you spot and identify different species such as Himalayan black bear, black panther, clouded leopard, yellow-throated marten, barking deer, pangolin and wild boar. Bird lovers will delight at their diversity here, with tragopan, blood pheasant, red-billed leothrix, chestnut-headed tesia, nuthatches, bull finches, treecreepers and satyr often seen. You can expect to spend all day out in the park, stopping for a picnic lunch, and arriving back to a hot dinner in the evening. Breakfast, lunch, dinner
DAYS 6-8: EXPLORING FROM HABRES NEST
You can choose to start your day watching birds from the lodge's hide as you sip a mug of hot tea or coffee before heading out on to the park's nature trails. By now you'll be accustomed to the surroundings and can take time to admire the varied flora which includes several species of orchids, magnolias and rhododendrons. It's a pristine environment and one where you feel at one with nature. Add to this the chance of seeing red pandas in the wild and you have a nature lover's dream. Breakfast, lunch, dinner
DAY 9: FLY TO DELHI
It's time to leave Habre's Nest, Singalila and the red pandas behind as you depart for Bagdogra airport and the mid-afternoon flight to Delhi. On arrival you are transferred to Lemon Tree Premier Hotel where you can make yourself at home as you think back over all that has happened since you were last here. Breakfast
DAY 10: DEPART DELHI
Today you will be collected from the hotel for the short drive to the international airport, arriving in time to check in for your flight home. Breakfast