DAY 1: TO LIMA
You'll be met on arrival at Lima Airport and transferred to Hotel B, a Relais & Chateaux hotel set in a restored Belle Époque mansion in the fashionable district of Barranco. Settle into your elegant suite where you'll sleep for the next two nights, then relax in the bar before dinner. 
DAY 2: LIMA TOUR
After breakfast you're off on a half-day city tour of Lima. This will include the 16th century Casa Aliaga and the Convent of Santo Domingo. You'll see art exhibitions and music and dance workshops and enjoy lunch at the Casona San Marcos. Then it's back to Barranco and a visit to Dédalo – a very chic gallery housed in a beautiful restored mansion. Your tour ends with a visit to the famous Larco Museum, an 18th century mansion housing, amongst other treasures, the finest gold and silver collection from ancient Peru. This evening you could take a stroll along the Malecón or choose from one of the many restaurants in Barranco.  Breakfast, lunch 
DAY 3: LIMA TO CUSCO 
This morning we will transfer you to the airport in time for your morning hour-long flight to Cusco. On arrival you'll be met and transferred to La Casona Hotel and spa to settle in. We have not planned any excursions today as we recommend that on your first day at this altitude (3300m) you take things really easy to acclimatise. Have a wander around the town, have a spa treatment at the hotel, sit and have a coca tea and a light lunch, perhaps do some window shopping. Simply soak up the friendly Cusco atmosphere without rushing around!  Breakfast.  
DAY 4: CUSCO
This morning your private guide will take you on a half-day tour of Cusco, Sacsayhuaman and other nearby Inca ruins. It will be a fascinating morning, starting at Koricancha, the Inca 'Golden Enclosure' that was once clad in gold before the Spaniards plundered the gold and built the Convent of Santo Domingo on what remained. Then off to the Plaza de Armas to visit the Cathedral to see its fine art collection before you travel to the Sacsayhuaman Inca temple complex, with its enormous stones, and to the temple and amphitheatre of Qenko and the red fort ruins at Pucapucara. You'll head back to Cusco for a late lunch, and the rest of the day is free for you to spend as you wish.  Breakfast 
DAY 5: MARAS & MORAY. HACIENDA LUNCH.
Today you leave Cusco and drive through beautiful Andean landscapes as you head towards the Sacred Valley. Your guide will show you the ancient site of Moray, with its deep parabolic impressions that are believed to be an Inca agricultural testing station, and the salt pans at Maras, which pre-date the Incas and are still worked to this day. Next stop is Hacienda Huayoccari, a centuries-old hacienda for a delicious Andean lunch, and afterwards you can enjoy looking around the family's impressive pre-Colombian art collection. Then you'll be transferred to the Sol y Luna Hotel and Spa outside the town of Urubamba. The rest of the afternoon is yours.  Breakfast, lunch, dinner 
DAY 6: PISAC & OLLANTAYTAMBO
Your guide will help you explore other parts of the Sacred Valley today. Pisac has a great market, with stalls selling everything from local produce to alpaca textiles, paintings and other handicrafts. It's bustling and colourful - so have your camera ready! Your guide will lead you above the village to see the impressive Inca ruins and agricultural terraces. Lunch is at a local restaurant before heading to Ollantaytambo, which is a living example of Inca town planning. There are some amazing Inca ruins above the town, with fantastic stonework, which are well worth the climb. You'll be driven back to Sol y Luna in time for dinner. Breakfast, lunch, dinner 
DAY 7: BELMOND HIRAM BINGHAM TRAIN
Today is your first luxury train experience of the holiday. You'll be collected from your hotel and driven to Urubamba where you will board the Hiram Bingham to Machu Picchu. This train is beautifully styled in 1920's Pullman fashion, with a level of service to match the great days of luxury rail travel. A gourmet brunch will be served, accompanied by Peruvian music and stunning panoramic views. From Aguas Calientes, the small town beneath Machu Picchu, you will take bus up to the sanctuary. Your private guide will take you round the spectacular Inca ruins in what is likely to be one of the highlights of your trip. You will return to Cusco on the Hiram Bingham, enjoying a splendid dinner. You will be met at Poroy station and driven back to Cusco, where you will spend the night at La Casona. Brunch, dinner 
DAY 8: BELMOND ANDEAN EXPLORER TO PUNO 
This morning you will be collected after breakfast and taken to Cusco Wanchaq railway station to board the magnificent Belmond Andean Explorer, your home for the next three days. The train will head south-east across the plateau as you enjoy a fine lunch in the stylish dining car. Then you disembark at the archaeological site of Raqchi, where you will see the remains of what may be the largest building ever constructed by the Incas. You return to the Belmond Andean Explorer in time to be served canapes and will then have time to relax in your first-class sleeper cabin, book a spa treatment or spend time enjoying the mountain views from the observation car before cocktails and dinner are served as the train makes its way towards Puno, which lies on the shores of Lake Titicaca. Breakfast, lunch, dinner 
DAY 9: LAKE TITICACA 
This morning you will breakfast early on the train before boarding the boat to journey on the lake to the Uros Islands, about 30 minutes from Puno. These are man-made islands, crafted from bundles of reeds, and your guide will explain how they are constructed, and the traditional way of life here. You then have a second boat journey (1½ hours) on the lake to Taquile Island, where you will have lunch at Collata Beach, watch dance displays and see how the textiles for which the island is renowned are produced. A boat will take you back to Puno, where you rejoin the train in time for tea before the Andean Explorer departs for Arequipa. You'll enjoy cocktails and dinner on board and then retire to your cabin for the night. Breakfast, lunch, dinner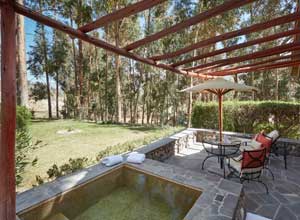 DAY 10: LAKE LAGUNILLAS AND ON TO COLCA CANYON 
You'll have an early excursion this morning to visit Lake Lagunillas, its shores home to an incredible array of birdlife including flamingos; an unexpected sight at 4,174m in the Andes! The train then continues on towards Arequipa, stopping en route for you to see the 6,000-8,000 year-old rock paintings in the Sumbay Caves.  You'll return to the train for lunch before disembarking at Cañahuas. Here you'll be met and driven to the Belmond Las Casitas hotel in the Colca Canyon. Settle in your beautiful, individual casita (bungalow), relax on your private terrace or in your own heated plunge pool, and enjoy the amazing views as condors fly overhead. There's a great spa here and an outdoor swimming pool next to a eucalyptus grove, and you can also explore the organic garden and farm. Breakfast, lunch, dinner 
DAY 11: COLCA VALLEY TO AREQUIPA 
Today you explore the Colca Valley. You'll make an early start to reach the Cruz del Condor viewing point in time to give you the best chance to see these magnificent birds. Your guide will take you to some of the small rural villages on the canyon rim, such as Yanque and Pinchollo, whose residents wear colourful textiles that are unique to their own village. After lunch you have a three-hour drive to Arequipa and your hotel for the next two nights, the Costa del Sol Wyndham. This handsome building has recently been remodelled and has a distinctly colonial feel, with high ceilings and elegant furniture. It's a 15-minute walk to many of the key attractions of Arequipa and its beautiful gardens border the lovely Selva Alegre Park. Breakfast, lunch 
DAY 12: AREQUIPA 
After breakfast, your guide will take you on a tour of Arequipa, this lovely 'White City', its name taken from the white volcanic stone used in so many of its buildings. There are some stunning colonial buildings, and the three snow-capped volcano's that act as a backdrop to the city are very striking, particularly El Misti, its conical shape quite unmistakable on the horizon. You'll visit the Santa Catalina convent and see the detailed stone carvings of tropical birds and flowers at the La Compania Jesuit church. After this the day is yours to spend at leisure, choosing one of the fine restaurants for which the city is renowned for lunch and browsing the excellent shopping malls or the Mercado de Artesania, an artisan market based in the old jail. Breakfast 
DAY 13: TO LIMA, AND DEPART
Your gloriously luxurious holiday in Peru comes to an end today, and you'll be collected from the hotel and transferred to Arequipa airport for the 1½ –hour flight to Lima to connect with your international flight home.  Breakfast