DAY 1: ARRIVE LIMA
You'll be met on arrival at Lima Airport and transferred to the Wyndham Costa Del Sol Lima Airport hotel. Here you can relax, enjoy a meal in the restaurant or make use of the fitness centre and indoor swimming pool or opt for a spa treatment. 
DAY 2: FLY TO CUSCO
After breakfast you'll make the short walk back to the airport for your flight to Cusco. Our local representative will meet you at Cusco Airport and transfer you to El Mercado Hotel. This colonial-style hotel, once part of the farmers' market, is close to the main Plaza, so once you've settled in you can explore Cusco at your leisure, starting to get used to altitude before you return to the hotel and perhaps enjoy a drink by the firepit in the lovely central courtyard before dinner. Breakfast
DAY 3: CUSCO
Today your guide will meet you after breakfast and take you to the 15th century fortress of Sacsayhuaman, the first stop on your guided tour of some of the most significant historic sites of Cusco. Then you head back into the city, to visit the bohemian San Blas district, followed by the hugely impressive cathedral and the 'Golden Enclosure' Korikancha, the Inca Temple of the Sun. This afternoon you are free to spend as you wish; the restaurants, shops and museums of Cusco await! Breakfast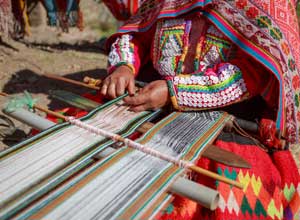 DAY 4: PISAC
The shared cultural trek begins today, and you'll be collected after breakfast and driven to the Sacred Valley. You can choose to make the 3-hour trek along part of the Lares Trail from Amaru to Viacha (4328m at the highest point), or you could opt to visit the Awanakancha textile centre, where you can witness the traditional weaving process and buy items to take home, followed by a trip to the traditional market in Pisac. Everyone in the group will meet up at the isolated rural community of Viacha where you'll learn about artisanal potato farming methods, followed by a 'Pachamanca' lunch cooked under hot stones. This afternoon you head by car or on foot to the Inca ruins above Pisac, then you trek or are driven to Lamay Lodge (2958m). Wander in the pretty gardens, relax in the outdoor hot tub, then enjoy a tasty meal before a good night's sleep. Breakfast, lunch, dinner.
DAY 5: INTO LARES AND TO HUACAHUASI LODGE
After breakfast and a walking tour of Lamay it's a 2-hour drive towards Lares, north of the Sacred Valley. En-route you'll stop at the ruins of Ancasmarca for a guided tour. After lunch there's a choice of activities. You can drive to the weaving village of Choquecancha to watch the weavers at work, view the Inca ruins and colonial church, or do an easy 2-4 hour hike. If you're feeling more energetic you can tackle a more demanding 4-5 hour hike. Whichever option you select you will arrive at Huacahuasi Lodge in time to shower and change before dinner.  The lodge is built into the mountainside and has fantastic views – and each bedroom has its own private outdoor jacuzzi. Breakfast, lunch, dinner.
DAY 6: HUACAHUASI TO OLLANTAYTAMBO
This morning you will be driven to an Andean trout farm in the Huilloc community, where you can taste cerviche. From there you can choose to trek the 3 hours to the archaeological site at Pumamarka or to enjoy a guided tour of the ruins at Maracocha. Here you'll meet local shepherds before being driven to Pumamarka where you'll join the trekkers for lunch and a guided tour. Then you can choose between hiking for 3 hours to Ollantaytambo or being driven to Ollantaytambo where you can explore the Inca alleyways. Then you'll be transferred to K'uychi Rumi Lodge in time to relax in your comfortable Andean lodge before dinner. Breakfast, picnic lunch, dinner.
DAY 7: OLLANTAYTAMBO TO MACHU PICCHU
You can relax for the first part of the morning or, if you're feeling energetic, you can hike to the Inca storage structures for a wonderful view of Ollantaytambo and the valley. Mid-morning the whole group starts a guided tour of Ollantaytambo. This site was settled in the 15th century and retains the original Inca grid layout and many fine stone buildings. In the late morning you'll catch the train to Aguas Calientes, the town at the foot of Machu Picchu, enjoying a picnic lunch on board. You'll check in to Inkaterra Pueblo Hotel then have the afternoon free to stroll around the orchid-filled cloud forest gardens, see where the hotel's organic tea is processed, take a dip in the pool, explore the town or perhaps have a massage in the spa.  You've a big day ahead of you tomorrow! Breakfast, lunch, dinner.
DAY 8: MACHU PICCHU TO CUSCO
You breakfast early before heading up to Machu Picchu where your guide will take you on a 2-hour walking tour. As you soak up the unique atmosphere and hear about its history, this world-famous citadel will come vividly to life in your mind. You'll have the chance, subject to permits, to take the Inca staircase Huayna Picchu or ascend the path up Machu Picchu mountain; both are challenging 2-hour hikes, but you will be presented with outstanding mountain views. Lunch is back at the Inkaterra Pueblo Hotel, then you take the train to Ollantaytambo followed by the 1-2 hour drive back to Cusco, arriving at El Mercado Hotel between 7 and 8pm. Breakfast, lunch
DAY 9: ACTIVITIES IN CUSCO
You have a choice of activities in Cusco today – and you can decide whether you'd like to do the activity in the morning or afternoon (activity choice to be decided at the time of booking the trip). The first option is a Peruvian lunch or dinner experience. You'll be collected from your hotel and taken to San Pedro market to shop for ingredients. Then you're taken to a modern 11th floor rooftop kitchen with great views of the city, where you'll be shown how to prepare a three-course Peruvian meal, then sit down to eat the fruits of your labours.
The second option is a half-day Art Trail, including a 2-hour ceramic workshop experience. You'll lean about the history of Andean art and figures such as the Torito de Pucará that you find on the roofs of mountain houses, and a skilled local artist will instruct you in traditional techniques for making and decorating ceramic plates, cups and other items. You could also choose to take part in a workshop, painting and applying gold leaf to figures of horses or the Torito de Pucará.
You can enjoy the rest of the day as you wish in Cusco and spend the final night of your holiday at El Mercado.
Breakfast, and lunch or dinner if you choose the culinary activity.
DAY 10: CUSCO TO LIMA, FLIGHT HOME
This morning it's time to bid farewell to Cusco as you're collected after breakfast and taken to the airport for the flight to Lima to connect with your flight home. Breakfast