DAY 1: ARRIVE LIMA
On arrival at Lima Airport you'll be met and transferred to the Wyndham Costa Del Sol Lima Airport hotel. Here you can enjoy a meal in the restaurant, take a dip in the pool or take advantage of the fitness centre and spa before getting a good night's sleep.
DAY 2: FLY TO CUSCO AND THE SACRED VALLEY
This morning you'll make the short walk back to the airport for your flight to Cusco. Our local representative will meet you at Cusco Airport and transfer you to the beautiful Sol y Luna hotel and spa, which is set in gorgeous gardens just outside Urubamba in the Sacred Valley. It's at lower altitude than Cusco, so acclimatisation is more effective here. You have two nights here. Breakfast
DAY 3: PISAC AND OLLANTAYTAMBO
This morning you will be collected from your hotel after breakfast and driven to the market at Pisac. You'll find plenty to tempt you here, from Inca artefact replicas to alpaca textiles and local paintings and jewellery. Above Pisac there's an impressive Inca archaeological site with agricultural terracing, and your guide will take you on a tour there. Following lunch, you'll visit the small town of Ollantaytambo, a living example of Inca urban planning. High on a promontory above the town there are some fabulous Inca ruins, complete with baths, a ceremonial complex and incredible stonework. You'll return to Sol y Luna in the evening. Breakfast, lunch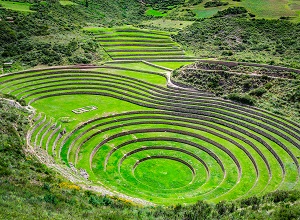 DAY 4: MORAY AND MARAS
Yet more archaeological wonders await you today, starting with the concentric terraces at Moray, believed by some to be an Inca agricultural research centre. Then you'll head to the white saltpans at Maras, which are still worked today. From here you will go to Cusco and the Ramada by Wyndham Costa del Sol Cusco hotel, which is a short distance from the main square, the Plaza de Armas. You have a Colonial Room in the historic section of this 17th century mansion for the next three nights. Breakfast, lunch
DAY 5: CUSCO
Today begins with a half-day guided walking tour in Cusco. This will include Koricancha, which was one of the city's most important buildings in Inca times when it was clad in gold and formed a centre of worship to the Sun God. The conquistadores took the gold and built a convent over most of the structure. Then you'll visit the magnificent Cusco Cathedral, which was built between 1560 and 1664. Your tour of Cusco ends with a visit to San Pedro market, a bustling shopfront for thousands of products from across the region. You'll be returned to your hotel and have the afternoon free to explore Cusco at your own pace. Breakfast
DAY 6: CUSCO
Today you have a full day in Cusco to spend as you wish. You might choose to return to San Pedro market and sample some street food for lunch, visit some of the historic sites not yet explored, seek out a café or restaurant or visit some craft shops. This evening you will go to a nearby hotel for a briefing about the trek, which begins tomorrow! Breakfast
DAY 7: CUSCO TO SORAYPAMPA - 1ST DAY OF THE TREK
You'll be collected from your hotel after an early breakfast and join the rest of the group you'll be with for the next 8 days. You'll all be driven to the mountain village of Mollepata, stopping on the way at the Quillarumiyoc archaeological site, once used to worship the moon goddess. You'll stop for lunch at El Pedregal farmhouse in Mollepata and then be driven along the scenic road to Challacancha. From here you continue on foot, walking for three hours on the picturesque Camino Real (Royal Road) to the Salkantay Lodge at Soraypampa (2,690m). Take in the glorious views of Salkantay mountain, relax with a massage or in the hot tub. Enjoy an excellent meal before you fall into your comfortable bed. This is your wonderfully restful home for the next two nights. Breakfast, lunch, dinner.
Note – the hike to the lodge is optional; you can instead travel to the lodge by vehicle, but we do recommend this hike as acclimatisation for Day 9's seven-hour challenge.
DAY 8: HUMANTAY LAKE
This morning you can trek 1½ uphill to Humantay Lake (4,200m). This turquoise lake in the shadow of the Humantay glacier is a magical place. Here you can take a breather, have a snack and then walk back down to Salkantay Lodge in time for lunch and relax in the afternoon. If you prefer, instead of hiking to the lake, you can take a horse-riding/trekking excursion in the hills around the lodge. This takes five hours in total and is available at extra cost. If you're feeling fit, there's the option of taking a two-hour horse ride in the afternoon, again at extra cost. Please note, this is not a ride for beginners. Breakfast, lunch, dinner
Note – the hike to Humantay Lake is optional. You could choose an alternative activity this morning, but we do recommend the hike as acclimatisation for Day 9's seven-hour challenge.
DAY 9: SALKANTAY PASS TO WAYRACCMACHAY
You have a seven-hour trek ahead of you today, and it's going to be great! You'll leave early and circle around Humantay peak, cross plateaux of large boulders and then negotiate the switchback paths up the pass. Then you'll descend through rock formations before stopping for a hot picnic lunch, prepared for you by the lodge staff. From here you walk across a marshy plain and rolling hills to remote Wayra Lodge (3,906m). Here you can congratulate yourself on your day's splendid achievement, admire the views of Mt Humantay, chill out with a massage, enjoy a fine meal and then perhaps reward yourself with a hot tub under the stars before snuggling into bed under the goosedown duvet. We suspect you'll sleep well tonight! Breakfast, picnic lunch, dinner
DAY 10: THROUGH CLOUDFOREST TO COLPA LODGE
You have a gentler hike and a total change of scene today, with the three to four-hour descent into warm cloud forest, full of butterflies and orchids. You'll reach Colpa Lodge (2,870m) in time for a tasty traditional lunch and in the afternoon you can soak in the outdoor hot tub or just doze in the sun. The lodge sits on a promontory at the confluence of three rivers, and is surrounded by green-clad mountains, so enjoy the incredible views. You've earned this rest! Breakfast, lunch, dinner
DAY 11: SANTA TERESA VALLEY TO LUCMA LODGE
Today a 5½ -hour trek takes you to Lucma Lodge (2,135m). You'll be aware of the temperature and humidity increasing. Your route follows the Santa Teresa River valley and you'll picnic on the river bank. After a brief road transfer you will visit an organic coffee farm on the way to the lodge. If you would rather not trek, a mountain bike route can be arranged (at extra cost). Lucma Lodge is situated in an avocado orchard on the edge of the Amazon jungle and looks rather like a modern treehouse. It has huge windows with wonderful views. Breakfast, picnic lunch, dinner
DAY 12: LLACTAPATA PASS AND FIRST VIEWS OF MACHU PICCHU
After breakfast don your walking boots again for a 2-3 hour hike through cloud forest on an Inca stairway to the Llactapata Pass (2,736m). You will be rewarded with an astonishing and seldom-seen view of Machu Picchu. There's an Inca 'tambo' (way station) at the pass, together with a lookout point where you will stop for lunch. For the final stage of trek, it's downhill through orchards, coffee plantations and bamboo forests to the Aobamba River and on to the Hidroeléctrica railway station. Here you board the train for the one-hour ride to Aguas Calientes, where you can settle in and rest in your lovely casita at the luxurious Inkterra Machu Picchu Pueblo hotel. Take a leisurely stroll through the grounds, looking out for birds and orchids, have a spa treatment or pay a visit to the rescued spectacled bears. And put your feet up! Breakfast, picnic lunch, dinner
DAY 13: MACHU PICCHU
It's another early start today – but it's worth it, as you'll leave the hotel after an early breakfast and take the bus up to Machu Picchu. Your guide will give you a two-hour tour of the sanctuary, bringing this iconic Inca citadel to life for you. Then you can explore on your own or (depending on ticket availability and your legs' willingness to tackle another challenge) climb Huayna Picchu peak. In the afternoon, return to Aguas Calientes and explore the town before dinner at your hotel. Breakfast, dinner
DAY 14: MACHU PICCHU TO CUSCO
This morning you can choose between enjoy the activities and grounds at the hotel or return to Machu Picchu for further private time at this incredible archaeological site (remember to keep yesterday's entry ticket as you'll need it today). In the afternoon you will take the scenic Andean train ride to Ollantaytambo followed by a 1-2 hour drive back to Cusco, arriving around 7-8pm. Then it's time to say goodbye to the friends you've made during your trek, before you're dropped back at the Ramada by Wyndham Costa del Sol Cusco for the final night of your holiday.  Breakfast
DAY 15: CUSCO TO LIMA, FLIGHT HOME
After breakfast you'll be taken to Cusco airport for the flight back to Lima, where you'll connect with your flight home. Breakfast