DAY 1: ARRIVE NAIROBI
You'll be met at Nairobi airport once you've cleared customs, and driven the short distance to Fairview Hotel for your first night in Kenya. This is a modern hotel ha 2 hectares of gardens, perfect for stretching your legs after a long flight. There's also a pool and a wine bar. There are 4 restaurants on site so plenty of choice for your evening meal.
DAY 2: DAPHNE SHELDRICK ELEPHANT ORPHANAGE
You have time for breakfast before being colletced from the hotel at 10.00 for the drive to Daphne Sheldrick Elephant Orphanage. You meet staff who look after the elephants, and can tell about the different individuals in their care amnd about the wider work of the orphanage, as well as seeing the elephants. You are driven to the famous Carnviore restaurant for lunch (at own expense), and have a brief stop at a supermarket to pick up any drinks and snacks you may beed for the next few days. At around 17:00 you go back to the elephant orphanage, not now open to general public making this a very special and exclusive visit. Having spent precious time with the elephants you return to Fairview Hotel. Breakfast, lunch

DAY 3: NAIROBI TO TSAVO EAST
After breakfast you are met by your driver-guide at the hotel for the journey to Tsavo East, with opportunities for wildlfe viewing on the way. Your destination is Ithumba Camp, which belongs to the David Sheldrick Wildlife Trust. The accommodation here is simple, but comfy, and this is a sefl-catering camp but your geoup includes a chef who provides all meals during your stay. 2 visits are planned in the afternoon to the wallow hole where you can watch elephants, many of them orphans, enjoying mud baths. It's a very uplifting experience sure to leave you witd a wide grin on your face! Full board.
DAYS 4 & 5: IN TSAVO EAST
You have 2 more days to enjoy elephant fun and frolicks at Ithumba, as they feed and bathe. The older elephants (8 years and over) live in the wild, with the younger ones overnighting in the stockades for extra protection. Interacting with elephants in the wild is a rare privlege and treat. You also have time for game drives with your driver-guide to explore the wider wildlife of the park, which includes giraffe, buffalo, rhino, lion, leopard and cheetah. Full board
DAY 6: TSAVO EAST TO VOI
Your chef prepares an early breakfast so you can get underway in good time. The drive to Voi Safari Lodge takes several hours and you should in time for lunch, after which there's time to relax and enjoy a swim in the pool. Replete and rested, you set out in the late afternoon to explore the area on a game drive. This includes a visit to a release station for orphaned elephants. Full board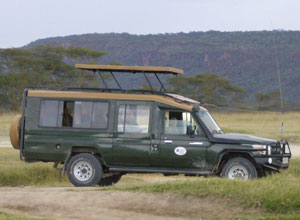 DAY 7: TSAVO EAST - VOI AREA
You have a choice of activities today. Visits to the elephants are certain to be high on the list, and you can also enjoy an exciting 4x4 safari with your driver-guide. Time permitting you can drive to Lugard Falls on the Galana River where you can walk to the rapids and enjoy a picnic lunch. Later you return to Voi Safari Lodge to freshen up before dinner. Full board
DAY 8: TO TSAVO TO CHYULU HILLS
You're on the move once more. You depart Voi for the conservation area in Kibwezi Forest, operated jointly by the David Sheldrick Wildlife Trust and the Kenya Forest Service, with the active involvement of local communities. It's a heartening example forest management and education. You have time to observe the flora and fauna, and visit the elephsnt release station before arriving at Umani Springs, run by the Sheldricks. This is another self-catering property where you can enjoy the culinary creations of your chef. There should be time to see elephants at the nearby stockades this afternoon. Full board
DAY 9: IN CHYULU HILLS
A full day out in then Chyuku Hills National Park is planned for today. This is a scenic area of luch, rolling hills, volcanic craters, forests, wide valleys and panoramic views including the magiificent sight of Mount Kilimanjaro. Resident wildlife includes giraffe, bushbuck, eland, buffalo, leopard and, of course, elephant. Your guide will find a suitable spot where you can enjoy your picnic lunch. The drive back to Umani Springs includes a stop at the stockades to observe the yourn orphaned elephants. Full board
DAY 10: TO NAIROBI
After breakfast you pack your bags for the drive back to the capital. This will take most of the day, with several stops and wildlife watching en-route. You should arrive in the city in the late afternoon, in time for another private visit to the elephant orphanage. You then have cinner at a local restaurant (at own expense) before you are transferred to the international airport for your overnight flight home. Breakfast