DAY 1: SAN JOSE
Welcome to Costa Rica. On arrival at San Jose international airport a representative is waiting to welcome you to Costa Rica. You'll be handed all the necessary documentation for your holiday and then a private, guided transfer will take you to your overnight accommodation in the city, Studio Hotel. The rest of the day is at leisure so you can rest after your flight and look forward to the holiday to come.
DAY 2: DRIVE TO ARENAL
After a hearty breakfast you will collect a 4x4 vehicle which will be yours for the next 7 days. From San Jose it's a straightforward drive of about 3½ hours to your first hotel, Arenal Springs, within sight of the well-known volcano. On arrival you'll be shown to your junior suite. The rest of the day is free for you to enjoy the hotel facilities which include a swimming pool and hot thermal springs, and you can have a relaxing soak in the healing waters to help you get into holiday mood. Breakfast.
DAY 3: EXPLORING ARENAL
After a generous buffet breakfast you'll set off for your morning adventure. Take the sky tram for a 1,250 metre, 20 minute ride to the start of the Sky Trek. This is where the thrills really begin! The trek consists of a series of zip-lines that stretch for 1.7 miles high above the treetops, and with breath-taking views of Arenal volcano and lake. In the afternoon you can stretch your legs with a guided hike at the base of the volcano (extra cost), through forest and past a recent lava flow. The walk will take about 2½ hours, and then you'll be taken back to the hotel. Breakfast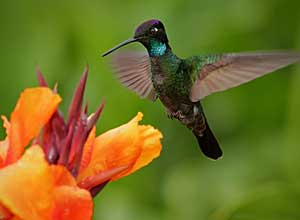 DAY 4: DRIVE TO MONTEVERDE
It's time to continue your journey, with a 3-hour drive to the Trapp Family Lodge in Monteverde cloudforest. This is an enchanting land of lush forests, exotic flowers and hummingbirds. This family-owned and run hotel is set in lush gardens and is just a 15 minute walk from the Monteverde Forest Trails. It also has a private reserve, a mini-Monteverde if you like. You'll have a cosy chalet with mod cons including TV. You can enjoy meals in the restaurant where large picture windows showcase the views. Breakfast
DAY 5: EXPLORING MONTEVERDE CLOUDFOREST
This morning you'll join a guide for a walk along trails in the cloudforest. Your route will take in waterfalls, rivers and viewpoints, and all the time you'll be on the look out for wildlife. If you're lucky you may see a quetzal with its iridescent green plumage. The foliage is lush and you should spot some of the hundreds of species of orchids that thrive here. You'll spend the afternoon at the hotel, perhaps enjoying a stroll through the gardens. Breakfast
DAY 6: DRIVE TO TAMARINDO BEACH
Following breakfast you'll be back on the road, heading towards the Pacific coast. The drive should take around 3½ hours, and you'll have some lovely sea views towards the end of the journey. Hotel Capitan Suizo is at one end of Tamarindo Beach, which extends for some 4 kilometres. Your room, cooled by air conditioning, has a terrace where you can unwind and bask in the warmth of the sun's rays. When you feel the pangs of hunger head down to the open air restaurant by the beach to sample the chef's fine culinary creations as you dine by candlelight. Breakfast
DAY 7: AT LEISURE ON THE COAST
The whole day is free for you to do just as you wish. You can have a lazy day on the beach, topping up your tan, going for a walk along the sand, swimming in the warm sea and treating yourself to a massage as you listen to the ocean breeze in the trees. You could take a catamaran cruise or, if feeling more energetic, go surfing, kayaking or diving. On land you can explore by bike or horseback. Tonight you can toast your Costa Rican holiday as you enjoy a cocktail at the ocean-front sunset bar. Breakfast
DAY 8: DRIVE TO LIBERIA AIRPORT, DEPART
Having breakfasted and packed your bags it's time to leave. Liberia International Airport is less than an hour's drive away, and soon you'll be on your way back home. Breakfast