DAY 1: ARRIVE IN BRAZZAVILLE
Your flight lands at Maya Maya international airport in Brazzaville, where a representative is waiting to welcome you to Congo and drive you the short distance to the Radisson Blu M'Bamou Palace Hotel. Nothing has been arranged for the rest of the day, so your time is your own to relax after your journey and enjoy the facilities of the hotel, which include an outdoor pool, a gym and 3 restaurants. Sitting on the terrace or in the gardens you can take in views of downtown Brazzaville, the Congo River and Kinshasha on the other bank, as you look forward to the safari in the days to come. Dinner on own account.
DAY 2: BRAZZAVILLE TO NGAGA CAMP
Enjoy an early breakfast before being transferred to the airport for the flight to Mboko airstrip, which takes about 2 hours. You are met on arrival and driven the 3 hours through savannah and forest to your home for the next 3 nights, Ngaga Camp, arriving in time for a late lunch. Later, you can join a guide on a walk in the forest, learning about the plants and wildlife, returning to camp for sundowner drinks round the campfire. You are joined by gorilla researchers who give you information about the local gorilla groups and explain details of the tomorrow's trek. Afterwards dinner is a served, a full 3 course meal. It's been a full day and you should sleep well tonight. Breakfast, lunch, dinner
DAY 3: GORILLA TRACKING AND VILLAGE VISIT
You're woken early to take full advantage of the day ahead. After coffee and a light breakfast you set out at around 6am with your guide and local tracker in search of your assigned group. The location varies from day to day and so the duration of the trek may be anything from 2 hours to most of the day. Once you've caught up with the gorillas you have up to an hour to watch as they feed, interact and play amongst themselves. The precise amount of time spent with the gorillas will depend on local conditions and time spent tracking. You return to camp for lunch and a rest. This afternoon we can enjoy river sundowners. Dinner is back at Ngaga Camp. Full board
DAY 4: GORILLA TRACKING AND FOREST WALK
This morning you have another opportunity to go in search of lowland gorillas. The local tracker uses his skills to locate the group, starting from where they slept the night before, and then you again share precious moments with these fascinating creatures. It's a wholly absorbing experience and the hour will pass all too quickly. You head back to camp for lunch and a siesta. In the afternoon you follow your guide along a forest trail looking for primates, mammals and birds. You are back in camp in time to sip pre-dinner drinks on the deck before the evening meal. We'd recommend a night walk this evening too if you're up for it. Full board
DAY 5: TO MBOKO CAMP
Today you have a relaxed start to the morning, or you can choose to have either another gorilla trek (not included in the price, but permits are for sale in advance of your arrival or in camp subject to availability). Later that morning we drive you to the next camp, Mboko, via Ombo village to see something of local life. The journey is about 3 hours and we have lunch at Mboko. The afternoon's activity is a river cruise on the Lekoli River. Sit back and enjoy the views. With luck you should spot some of the resident wildlife such as forest elephant, buffalo and, with luck, the shy sitatunga. There are certain to be plenty of monkeys, too. We'll have sundowners before returning to camp. Full board.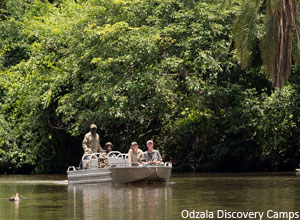 DAY 6: TO LANGO CAMP
During breakfast at Mboko Camp you should keep your eyes open for Ferdie, a forest buffalo and frequent visitor to the camp. Then it's time to take to the water in a kayak. Your route is along the Lekoli River and ends at Lango Bai where there are often animals to be seen including monkeys, frogs, birds and insects. This is a lovely way to explore, paddling at your own pace, pausing to watch wildlife, and immersing yourself in nature. At the bai you can get out and explore on foot, before heading to Lango Camp for lunch. Fully refreshed, you set out on a late afternoon walk in the rainforest, following one of the many trails created by the forest elephants. Back in camp you join other guests by the campfire for drinks, and then enjoy a 3 course dinner. Full board.
DAY 7: AT LANGO CAMP AND BAI
Today we'll enjoy an adventure walk before returning for lunch at Lango Camp. This afternoon we might choose a forest walk or a bai walk, or perhaps some birdwatching from the camp deck. This evening we'll have a camera trap presentation about what lies camouflaged in the forest around us. Full board
DAY 8: TO MBOKO CAMP AND FOREST WALK
After breakfast we'll take a guided walk to the bird hide to watch the Africa grey parrots in the bai. Later we'll take you on a game drive transfer back to Mboko Camp and we'll walk on raised wooden paths through a swamp. You arrive at Mboko where lunch is ready for you. The afternoon is yours to do as you wish. You are welcome to rest on the deck, watching for buffalo and bushbuck, or you can join your guide for a walk, or perhaps a river cruise. Gather round campfire later for drinks, and enjoy a delicious dinner, an opportunity to consider all you've seen and done over the past week. Full board
DAY 9: TO BRAZZAVILLE
You are woken for breakfast after which you have time to pack your bags in preparation for the jouney back to Brazzaville. This begins with a drive to the airstrip where you board the flight to the capital, and ends with a transfer to the Radisson. The rest of the day is free time. You might want to go sightseeing: St Anne's Basilica is a striking 20th century church, with an elegant vaulted brickwork ceiling, well worth a visit. You can rub shoulders with locals at Poto-Poto market, browsing among the many stalls selling all manner items from textiles to food. Alternatively, you might just want to take it easy at the hotel, going for a swim in the pool, enjoying some pampering at the spa and shopping for souvenirs in the gift shops.. Breakfast.
DAY 10 : DEPART BRAZZAVILLE
Depending on your flight time, you have some of the day free to spend at the hotel, sightseeing or to do last minute souvenir shopping, until your transfer to Maya Maya airport, where you check in for your homeward flight.